Love to golf but hate lugging around a heavy bag full of clubs?  With temperatures well over 100F, that bag gets heavier and heavier with each hole played.  At the 2017 Havasu 5 Iron Tournament, leave the golf bag at home.  All you're going to need is your trusty 5 iron and a sense of adventure.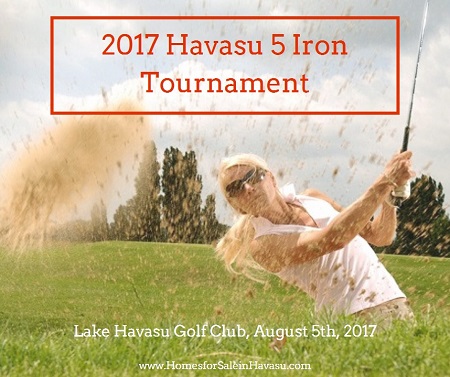 What: 2017 Havasu 5 Iron Tournament
Where: Lake Havasu Golf Club (2400 Clubhouse)
When: Saturday, August 5th, 7:30am to 1pm
Admission: $50 per person, Sponsorship: $100 per hole
Contact: Hal Christiansen, Event Coordinator (928) 302-5823 or via email or Paul Lepler, Lake Havasu Golf Club (928) 855-2719 or via email
2017 Havasu 5 Iron Tournament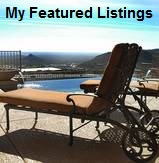 That's right.  No need to bring your wedge, driver or putter.  Leave your woods at home.  There's only one club allowed at the 2017 Havasu 5 Iron Tournment…and that's the 5 iron, of course.  Since 2013, the Kiwanis Club of Lake Havasu City has been hosting this fun tournament to raise money for local children's programs.  No matter your skill level, this tournament proves fun for everyone.
The 2017 Havasu 5 Iron Tournament begins with a shotgun start at 7:30am.  Golf play is a four person scramble.  Your team can be either all men, all women or co-ed.  It's all fun and games here.  So, talk to your regular golfing buddies, friends, family or co-workers to set up your own team.  But, if you don't have enough for a full team, that's OK.  Let the event coordinator know and they'll set you up with one.  There's always a team looking for a player or two.  Prizes will be awarded for 1st and 2nd place, longest drive (both men and women), longest putt and closest to the pin.
Tickets for the 2017 Havasu 5 Iron Tournament
Tickets for the 2017 Havasu 50 Iron Tournament cost just $50 per person.  This includes your cart and green fees as well as a nice lunch afterward.  For just $100, become a tee sponsor.  Get your name and/or business out to the public with a special advertisement set up at one of the holes on the course.  Sponsorships are still available.  Talk to Hal Christiansen for more information.
Sign up for the 2017 Havasu 5 Iron Tournament today.  You don't have to be Dustin Johnson, Rory McIlroy or Lydia Ko to compete in this tournament.  All you need is a love of the game and your trusty 5 iron to have fun.  As you can see, there's more to the Lake Havasu lifestyle than just the water.
Featured Lake Havasu City Home
Liz Miller, Just Call Liz for Your Own Piece of the Lake Havasu Lifestyle
Visit any of my Lake Havasu real estate sites below for more information on the Havasu market:
Liz Sells Lake Havasu
Homes for Sale in Havasu
Havasu Area Homes
Just Call Liz
Live in Lake Havasu