Most people have today off since it's the 4th of July.  That means thousands of people will be celebrating our nation's birthday in Lake Havasu City.  Whether you're going to be celebrating July 4th at a public event or you're going to have a quiet celebration at home, safety should always comes first.  The Fire Department is offering the following fireworks safety tips in Lake Havasu City.
Frequently Asked Questions

Question: What fireworks are legally allowed within the City of Lake Havasu limits for personal use?
Answer: Sparklers, cone and cylindrical fountains, firework wheels, illuminating torches, spinners (ground variety) and tube and toy smoke devices.
Question: What fireworks are NOT legal for use within the City of Lake Havasu?
Answer: Anything that gets shot into the air and makes a noise, ie: bottle rockets, jumping jacks, helicopters, Roman candles, M80s, cherry bombs, firecrackers or other missile-type rockets.
Fireworks Safety Tips
You can be safe and still have fun.  Just make sure to follow these fireworks safety tips in Lake Havasu City.
Adults should always be present when fireworks are involved, even with teenagers.
Do not put any part of your body (hand, back, front, etc) directly over a firework when you light the fuse.
Never point or throw any fireworks at someone else.
Keep a bucket full of water or a garden hose at the ready at all times.  After the fireworks have finished and the cartridges are cooled off, pick them up and soak them completely in the bucket of water before placing them in the garbage can.  This includes hand-held sparklers.
Never try to relight a "dud".  If a firework does not go off, wait 15-20 minutes before handling.  Pick it up and soak it in your water bucket.
Just because you may be able to purchase it from a vendor does NOT mean that all fireworks are legal within Lake Havasu City limits.  Fire officials will be on the lookout for people using illegal fireworks.  The fines can be pretty steep.  So, avoid any problems.  Follow these fireworks safety tips in Lake Havasu City so everyone can have a safe and happy 4th of July.  If you have any questions about the sale or use of fireworks, please contact the Fire Marshal's office (928-453-3313).
FEATURED LAKE HAVASU CITY HOME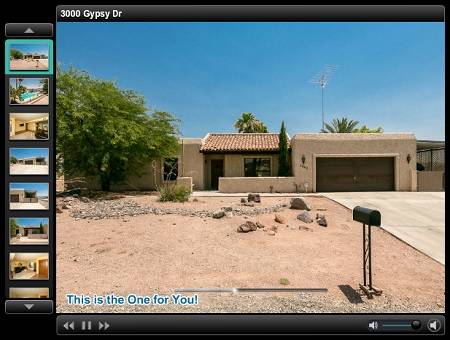 For more info on this and other Havasu homes for sale, please visit my Featured Lake Havasu Listings page.
Liz Miller, Just Call Liz for Your Own Piece of the Lake Havasu Lifestyle
Visit any of my Lake Havasu real estate sites below for more information on the Havasu market:
Liz Sells Lake Havasu
Homes for Sale in Havasu
Havasu Area Homes
Just Call Liz
Lake Havasu Home Values
Live in Lake Havasu