It would appear that the predictions of higher demand having an impact on home prices this year may be true.  At least, that's what the Lake Havasu real estate market has seen so far.  And, if we keep going at this pace, we're set to hit over $390M in total residential sales by the end of 2013.  You would have to go back more than five years to see numbers that high!

According to WARDEX (the Western Arizona Regional MLS), this year's sales figures have already increased significantly over the same time last year.  There were a total of 487 residential sales in Lake Havasu City for the first quarter of 2013 (January 1st through March 31st).  That's a 12.2% increase over the first quarter of 2012.  The average list price for a Lake Havasu City home sold in the first quarter of 2013 was $186,127.  It eventually sold for an average of $178,936.  That means that the average home sold for 96.14% of the original asking price.  That's just over 1% higher than the same time last year, which saw homes selling for an average of 95.13% of the original asking price.
Lake Havasu homes saw a 12.4% increase in the average listing price in comparison to the first quarter of 2012 as well.  So, not only are homes selling for closer to asking, but the price point at which negotiations start is actually higher as well.  That's wonderful news for anyone interested in selling their Havasu home this year.  On the other hand, if you are going to sell, you do need to be patient.  The days on market has increased by nine days.  The payoff, however, is better if you can stand to wait a little.
Now that the foreclosures and short sales that saturated the Lake Havasu real estate market in the past have dwindled, traditional and new home sales have begun to feel some much welcomed relief.  When you're ready to enter the Havasu market, just give me a call.
FEATURED LAKE HAVASU HOME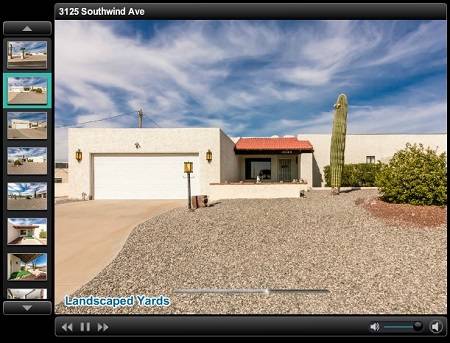 For more info on this and other Havasu homes for sale, please click here.
Liz Miller, Just Call Liz for Your Own Piece of the Lake Havasu Lifestyle
Visit any of my Lake Havasu real estate sites below for more information on the Havasu market:
Liz Sells Lake Havasu
Homes for Sale in Havasu
Havasu Area Homes
Just Call Liz
Lake Havasu Home Values
Live in Lake Havasu