The June 2015 Lake Havasu Home Sales Report is in.  Both sales and prices are up.  How does this affect Buyers and Sellers in our Havasu community?
June 2015 Lake Havasu Home Sales Report Rundown
According to the Western Arizona REALTOR® Data Exchange, a total of 193 Lake Havasu homes were sold in June 2015.  That brought the second quarter total to 624.  This is 18.6% higher than the total sold in the first quarter of 2015 (526).  It is also 13.2% higher than the 551 sold at the same time last year.  In fact, it is the highest quarterly sales since the second quarter of 2013.
The average sale price for a home sold in June 2015 was $247,741.  This was a 14.2% increase from the same time last year.  It was also the highest monthly average for the last five years.  The average price per square foot has increased from $123 in June 2014 to $135 last month.  This is a slight decrease from the $136 ppsf in May 2015.  The average days a Havasu home is on the market is also down from 159 last year to 105 last month.
How Does This Affect You?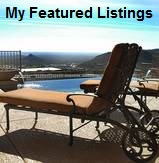 The June 2015 Lake Havasu Home Sales Report highlights how healthy our local market is right now.  The increases in sales and prices have been slow but steady.  Other areas around the country are seeing prices rise dramatically.  This just shows how much more affordable Lake Havasu homes are than other areas in Arizona.  In fact, you might say it's a downright bargain to own Havasu property right now.
Interest rates continue to march steadily higher.  However, they still keep home loans very affordable.  Bankrate.com currently shows a 30 year fixed rate loan at 4.12%.  Financial experts have predicted that we might see 5% rates by the end of the year.
Our local market is in better shape than it has been for many years.  Prices may be increasing, but they are still very affordable.  Partner that with our gorgeous weather and you've got a bargain at any price!
Are you interested in purchasing a Lake Havasu home anytime soon?  Where would you like to settle down?  Please let me know in the comments below.  Contact me when you are ready to start looking.
Featured Lake Havasu City Home

Liz Miller, Just Call Liz for Your Own Piece of the Lake Havasu Lifestyle
Visit any of my Lake Havasu real estate sites below for more information on the Havasu market:
Liz Sells Lake Havasu
Homes for Sale in Havasu
Havasu Area Homes
Just Call Liz
Live in Lake Havasu