You've decided to purchase a new Lake Havasu home.  However, your credit score leaves something to be desired.  Will that stop you from being financed?  Not necessarily.  My latest Lake Havasu Buyer Tip involves good loans for the credit challenged Buyer.
Lake Havasu Buyer Tip: Which Loan Should You Choose?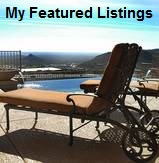 According to mortgage processor Ellie Mae, the average FICO score for closed mortgages earlier this year came in at 720.  Does your credit score rival that?  If not, don't worry.  You do have options.  While stellar credit means better rates, some loans allow Buyers with less than desirable credit scores a chance to own a piece of the American dream, too.
USDA Loans
Conventional loans aren't the only way to go when buying a Lake Havasu home.  USDA loans require a minimum score of 640 to be considered.  No down payment required either.  Of course, it comes with restrictions.  For example, your mortgage cannot exceed 29% of your income.  Your total debt-to-income ratio must not go above 41%.  Also, the home you wish to purchase must be in a rural area.  To find out whether or not your home qualifies as a "rural property", visit the USDA's Property Eligibility website and enter your address in the search bar.
FHA Loans
FHA loans require a slightly lower FICO score than USDA loans.  Millennials favor the FHA over their other options, according to the Washington Post.  With a FICO score of at least 580, borrowers need just 3.5% for a down payment.  When scores range from 500 to 579, the down payment requirement increases to 10%.  Your mortgage should be 31% or less of your income.  Meanwhile, your total debt-to-income ratio needs to stay under 43%.  Both of these ranges are slightly higher than USDA standards.  Other restrictions apply as well.
Arizona HOME PLUS Home Loan Program
The Arizona Department of Housing offers a HOME PLUS home loan program for qualified Buyers.  They utilize a down payment assistance grant that can provide up to 5%.  The home must be the main residence and occupied by the owner.  Your annual income cannot exceed $92,984.  The home purchase cannot exceed $371,936.  A homebuyer education course is required by at least one of the homeowners.  And your credit score must be at least 640 to qualify.  For more information on the HOME PLUS loan, please visit https://housing.az.gov/finance-authority/home-plus.
When it comes to this Lake Havasu Buyer Tip, make an appointment with your loan officer.  Discuss your options to find the best fit for your situation.  Feel free to ask any questions you may have.  The only stupid questions is the one you didn't bother to ask.
Featured Lake Havasu City Home
Liz Miller, Just Call Liz for Your Own Piece of the Lake Havasu Lifestyle
Visit any of my Lake Havasu real estate sites below for more information on the Havasu market:
Liz Sells Lake Havasu
Homes for Sale in Havasu
Havasu Area Homes
Just Call Liz
Live in Lake Havasu