They say you only have one chance to make a first impression.  When selling your Lake Havasu home, this means you need to keep your curb appeal on point.  Just how crucial is curb appeal?  According to Zillow's survey of top real estate agents around the US, it ranks in the top five most important elements in selling a home.  You don't necessarily have to spend a ton of money to make a great impression.  Utilize these quick curb appeal fixes for your Lake Havasu home and you're bound to get more potential buyers beating down your door.
Quick Curb Appeal Fixes for Your Lake Havasu Home
Clean 'Er Up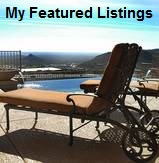 I know what you're thinking.  That sounds obvious, right?  But you might be surprised how many people don't think to clear up the clutter on the outside of their home.  It's also the cheapest and easiest of the quick curb appeal fixes you can do.  Remember this motto: KISS…Keep It Simple, Silly.  Clear out the cobwebs.  Store away toys and tools.  Keep trash bins tucked out of sight, if possible.  If not, line them neatly against the side of the house.  A good power washing can clear away months of dirt, grime and mossy growth on your sidewalks, driveway, pool, deck and your home's exterior.  Don't own a power washer?  Rent one for the day from a local home improvement store.
Freshen 'Er Up
Do your exterior light fixtures look dated or drab?  Replace them.  The same goes for the hardware on your front door.  Buy a new welcome mat.  If you have ripped screens or broken shutters, replace those as well.  Slap a fresh coat of paint onto your trim and/or shutters.  A nice water feature, no matter the size, also brings a welcoming aspect to your entry way.  Don't forget your mailbox.  If its best days are behind it, put it out of its misery.  Your local home improvement store also carries these.  And they're pretty easy to install.
Add a Pop of Color
Just because we live in the desert doesn't mean everything should be beige.  One of my quick curb appeal fixes is to paint the front door a vibrant color.  Just make sure it compliments instead of clashes with the rest of the exterior of your home.  Large, colorful pots with cacti or other succulents can also add a spot of color.  Or, add flower boxes to your windows that include flowering plants like Organ Pipe, Prickly Pear or Senita (aka Wiskers) cactus or Cape Aloe, Desert Spoon or Candelilla succulents.  All of these are native to Lake Havasu.  They require little to no water and flourish in the sunshine.
As you can see, establishing excellent curb appeal doesn't necessarily have to cost big bucks or take a ton of time.  Most of these quick curb appeal fixes take minimal effort.  Breath new life into your Lake Havasu home without breaking the bank.
Featured Lake Havasu City Home
Liz Miller, Just Call Liz for Your Own Piece of the Lake Havasu Lifestyle
Visit any of my Lake Havasu real estate sites below for more information on the Havasu market:
Liz Sells Lake Havasu
Homes for Sale in Havasu
Havasu Area Homes
Just Call Liz
Live in Lake Havasu