Just like the weather, Lake Havasu real estate is hot again!  According to the 2nd quarter 2013 market stats for Lake Havasu City, we are on track to have a banner years in 2013.  At the halfway point for the year, the Lake Havasu real estate sales figures are outpacing last year's numbers across the board.
Continuing the upward trend from Lake Havasu's 1st quarter, the 2nd quarter 2013 market stats for Lake Havasu City real estate showed a 29.3% increase in total homes sold over last year (450 homes sold from April to June 2012 vs 582 in 2013).  The average list price for a Lake Havasu home sold between April and June of 2012 was $185,595.  That figure jumped to $203,795 for the same time this year…a 9.8% increase!  The average sales price of a Lake Havasu home sold in the 2nd quarter was $195,733, which means that home sellers could expect to get 96% of their initial asking price at the final sale of their home.

The average days on market (the amount of time from first listed to under contract) has remained the same as last year at 129 days.  It would also appear that sellers are becoming well aware of the increase in demand for Lake Havasu homes.  The average monthly inventory of Lake Havasu homes for sale has increased 33.6% from the 2nd quarter of 2012 (from an average of 794 per month in 2012 to 1061 per month in 2013).  This is good news for buyers in that they will have a wider variety of homes to choose from.  However, sellers shouldn't necessarily be worried about inventory bringing home prices down, since the price per square foot has increased 12.6% (from $103 per square foot in 2012 to $116 per square foot in 2013).
What do the 2nd quarter 2013 market stats for Lake Havasu City mean for you?  Well, if you're a buyer, the inventory is healthy enough that you will most likely be able to find just the right home to fit your needs.  With prices projected to continue to rise and interest rates starting to increase slightly as well, you should begin your search for a new Havasu home now.  For sellers, it's a great time to put your home on the market.  There is some competition out there, but demand is increasing as well.  When you're ready to buy or sell, please let me know.  All you have to do is Just Call Liz!
FEATURED LAKE HAVASU CITY HOME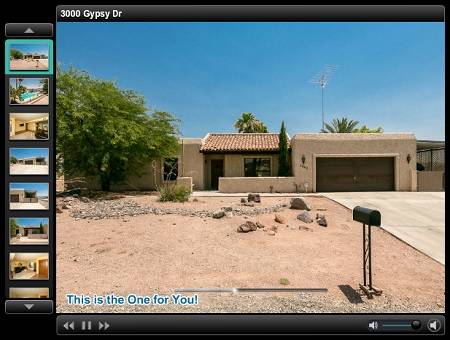 For more info on this and other Havasu homes for sale, please visit my Featured Lake Havasu Listings page.
Liz Miller, Just Call Liz for Your Own Piece of the Lake Havasu Lifestyle
Visit any of my Lake Havasu real estate sites below for more information on the Havasu market:
Liz Sells Lake Havasu
Homes for Sale in Havasu
Havasu Area Homes
Just Call Liz
Lake Havasu Home Values
Live in Lake Havasu