Owning your own Lake Havasu home brings you several benefits.  They typically increase in value over time.  Your interest and property taxes provide a deduction on your taxes.  The money you pay each month goes towards your own property rather than paying off a landlord's mortgage.  But when it comes to Havasu home buying, I suggest using the "Goldilocks Rule".  Not too big.  Not too small.  Look for something that is just right.
What is the Goldilocks Rule of Havasu Home Buying?
It's easy to get excited when hunting for a new Havasu home.  Oftentimes, this excitement overshadows reality.  Do you really need the big house for that huge price?  On the other hand, the price of a smaller home may seem attractive until you realize how cramped you, your spouse, your two kids, your dog, the cat and a bird will be inside.  The Goldilocks Rule of Havasu home buying simply means finding the right type and size of home that fits comfortably within your budget and lifestyle.
Debt-to-Income Ratio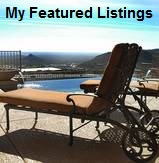 One factor to consider when buying a Havasu home is your debt-to-income ratio.  Over-extension ran rampant back in the mid-2000's.  Millions of Buyers bought homes they couldn't afford.  Eventually, they ended up losing them.  In 2014, the Consumer Financial Protection Bureau came up with the Qualified Mortgage Rule.  The QM Rule states that your total amount of debt (including car loans, student loans, credit cards, mortgage payment, property taxes, etc.) cannot exceed 43% of your total gross income.
The FHA, Fannie Mae and Freddie Mac don't have to adhere to this rule.  So, over-extension remains a possibility for some Buyers.  That's why you need to do some of your own calculations before deciding on your spending budget.  Just because the bank approves you for a $400,000 loan doesn't mean you need to spend that much.  Do you love to travel?  Does your regular routine include dinner and a movie two or three times a week?  Are you a clothes horse?  If you don't want to give these things up, you may want to pare down the max you're willing to spend when Havasu home buying.
Extra Expenses
When it comes to home ownership, don't forget about the extra expenses involved.  If you're moving into a larger place, keep in mind that utility expenses could go up.  It costs more to heat and cool more square footage.  Then, there's the HOA fees (if applicable), private mortgage insurance (when you put less than 20% of the purchase price down) and any special assessments.  These can add hundreds of dollars to your payment each month.  These should be factored in to your monthly budget when you go Havasu home buying.
Talk to your Lake Havasu REALTOR@ and/or your mortgage broker.  They can help you narrow down what to expect with your actual expenses.  Then, you can decide where to set your price range before going Havasu home buying.  That way, you can live the Lake Havasu lifestyle without becoming house poor.
Featured Lake Havasu City Home
Liz Miller, Just Call Liz for Your Own Piece of the Lake Havasu Lifestyle
Visit any of my Lake Havasu real estate sites below for more information on the Havasu market:
Liz Sells Lake Havasu
Homes for Sale in Havasu
Havasu Area Homes
Just Call Liz
Live in Lake Havasu