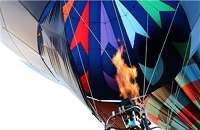 I certainly hope everyone had a wonderful Christmas with their loved ones this year.  I know I did.  With the new year comes new fun for Lake Havasu residents and visitors.  The 3rd Annual Havasu Island Balloon Festival will make its way to Lake Havasu on the weekend of January 18-21, 2013.
The Nautical Beachfront Resort Golf Course in Lake Havasu City will play host to four days of hot air fun.  Gates open to the public at 6am each day.  Visitors can take a tethered ($20 per person) or untethered ($200 per person) balloon ride.  Food vendors will be available every day as well as a family-friendly carnival.  A special night glow will happen Friday, Saturday and Sunday evenings promptly at 6pm.  If you've never seen this happen, this is a MUST SEE.  Live entertainment takes place on the main stage.
Kids can be included in the balloon festival fun with face painting, arts and crafts, train rides, bounce house and a balloon clown.  A dog field show will be held Friday, Saturday and Sunday on the launch field.  Special gymnastics and martial arts demonstrations will take place over the four day event as well.  The carnival and vendors will close at 10:30pm on Friday, 11:15pm on Saturday and Sunday with the closing ceremony of the festival happening at 12pm on Monday.
The 3rd Annual Havasu Island Balloon Festival has quickly become the largest January balloon event around. Admission is just $7 per person.  This is something the whole family can enjoy.
FEATURED LAKE HAVASU HOME
For more info on this and other Havasu homes for sale, please click here.
Liz Miller, Just Call Liz for Your Own Piece of the Lake Havasu Lifestyle